I feel more relaxed here!
Shirley Ann Lochhead is loving her new life in Perth, with its plentiful sunshine and outdoor-focused lifestyle…
For us, Australia offers better opportunities and an attractive outdoor lifestyle. Robert has been living in Australia for over 30 years, while I am a temporary resident living in Australia on a spouse visa.
I had previously lived in Queensland over 30 years ago but suffered from homesickness and returned to the UK. Robert has a brother living in Sydney so he knew about the opportunities that Australia could offer him.
I got to know Robert through a social network site for people from our home town. We had never met but would often chat via the site as I had been to Australia on holiday every couple of years visiting my son, who lived in Melbourne.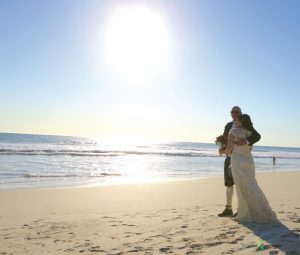 After four years of chatting, Robert returned to Scotland on holiday in September 2015 and we met in person for the first time. I already had flights booked to go to and Robert invited me to visit him in Perth, which I did.
In March 2016 I returned to Perth for another visit to Robert and stayed for three months, by which time we both realised we wanted to be together.
I returned to the UK, handed my notice in at work and began clearing out my house and saying my goodbyes to friends and family. I returned to Perth six weeks later and we married in September 2016.
MIGRATION PROCESS
We used savings to apply for a spouse visa and flights. We spent about A$11,000 between the visa and agent fees, as well as our medical and police checks.
Our migration agent is Victoria O'Neill of Sure Migration in Perth. We decided to use an agent as I was concerned that I might not provide the correct information.
Knowing that Victoria is at the end of the phone at any time to reassure me when I feel the process is taking so long is fantastic. I wanted the reassurance of someone with detailed knowledge of the visa process who could take the stress away from us and make everything as straight forward as possible.
There haven't been too many sacrifices with the move other than sorting out my house in the UK. My grown up family wouldn't be migrating with me and Robert was already living Perth, where he owned his own house, so we knew exactly where we would be living.
I originally arrived on a tourist visa and we applied for the spouse visa after our marriage. I was immediately issued a bridging visa until my temporary residence visa was issued 12 months later.
A further year later, I have now been invited to apply for permanent residency. It could be a further 12 months before it is issued but I hope it will be earlier so I can finally call Australia home. I just want to continue living in this amazing country!
LIVING HERE
We live in a three-bedroom, single storey property in Heathridge.
Our suburb is close to the beach and only 30 minutes from the city via the train or freeway. There is a mix of young families and mature couples in our area. There is a primary and high school close by, as well as local shops.
The housing market in WA has seen a downturn in the last couple of years but in our suburb properties are only on the market for a couple of weeks before they are sold.
The weather here is great. Spring, summer and autumn are wonderful. It can get very warm in summer and it is relatively low humidity in comparison to the eastern side of the country.
Our life here is focused around catching up with friends over dinner. Being so close to the coast means that you can take advantage of the great weather and go for a swim or surf. There are great parks everywhere here and most have barbeque facilities. At the weekend we usually go for a drive into the hills where there are so many lovely wineries and country pubs.
There are a lot of expats living in Perth so you always find yourself talking to a familiar accent, which helps if you are feeling a bit homesick. I am always chatting to people and find the Australians to be friendly and welcoming.
– as featured in Australia & New Zealand magazine